Nosy Be – The Perfumed Islands
Welcome – Bienvenue – Tongasoa
Nosy Be… Sunbathing alone on an endless sandy white beach is no longer a memory of bygone days…
Situated off the North West coast of Madagascar, this unspoiled tropical island, blessed with almost perfect weather, is ideal for island hopping, fishing snorkeling, scuba diving, yachting and sunbathing. Other islets dotted within this archipelago include: the nearby diving retreat of Nosy Sakatia, Nosy Komba with its small fishing village and population of tame black lemurs and Nosy Tanikely, a marine reserve and natural aquarium boasting a profusion of sea life. Further north lies the Mitsios, a jewel-like archipelago with sparkling marine life and abundance of marine life. To the south of Nosy Be lies the Radamas with many small islands dotted along crystal clear waters.
Bossi Adventures have been operational in Nosy Be for twelve years, and we have gained local knowledge enabling us to offer the best of the best with our selections:
•    The most relaxing private liveaboard yacht charters
•    Hotels and lodges to suit your budget
•    Self catering homes for relaxed family holidays
•    The best fishing experience any person can dream of
•    Day Excursions – get to explore what the island has to offer
•    Spend time exploring our untouched reefs -Diving
With Bossi Adventures, experience the warmth of the breeze and the sound of the lapping sea drown away the cares of life. From lazing on white, sandy beaches to exploring the depths of the crystal clear ocean, your holiday is sure to refresh your enthusiasm for life. We offer various holiday packages that include flights, transfers, accommodation and day excursions.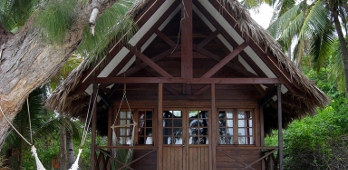 Located on the West coast of the island of Nosy Be 40 minutes from the airport, this hotel bordering the Mozambique Channel offers a breath-taking view of the sunset. Situated in a park of 5 hectares, it stretches along the beach.
Bossi Adventures offers live aboard accommodation on yachts Adiva, Bossi or Calypso.
All the yachts are fully crewed with a skipper, chef and deckhand. Our knowledge and experience of the area has allowed us to create tours that will allow you to enjoy the holiday of a lifetime.
Whether it's the adrenaline of hooking one of the oceans greatest or just enjoying the casual fishing trip, Madagascar's fishing experience is sure to get your blood pumping with the sound of screaming reels.